admin July 31st, 2007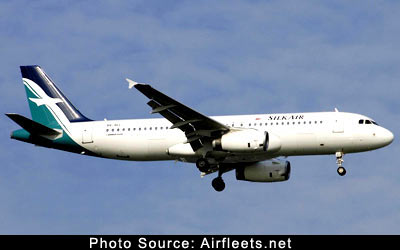 Silk Air, a subsidiary and regional wing of Singapore Airlines sets its sights on Kathmandu and has formally announced that it plans to begin Nepal operations from the October-end this year. The Airlines announced that the airlines intends to begin a three-times a week flights on Singapore-Kathmandu sector by the end of October this year.
Though operational matters and schedules are subject to government approval, Silk Air plans to fly every Tuesday, Thursday and Saturday directly between Singapore and Kathmandu. Presently there are no direct flights between both cities, so the joint SilkAir-Singapore Airlines network has possibility to boost traffic to Kathmandu via Singapore's Changi Airport. Flights will be operated on Silk Air's Airbus A320 family aircraft.
Director general of Civil Aviation Authority of Nepal (CAAN) Yagya Prasad Gautam has assured that Nepal's aviation regulatory would extend all kinds of support to facilitate the flights to the country.
If this operation starts then it will cater to leisure traffic out of Singapore and facilitate easy connections for passengers from Australia, New Zealand, Japan and Europe, all of which are important tourist generating markets for Nepal.
Similarly for passengers from Kathmandu, this new service will offer direct flights to Singapore and it will also be convenient for connections to more than 90 international cities in the joint Singapore Airlines-Silk Air network.
Everest Express Tours and Travels is the GSA for Singapore Airlines and Silk Air for Nepal.
GSA Office in Nepal:
SINGAPORE AIRLINES & SILK AIR
Everest Express Travels and Tours
P.O. Box: 482, Durbar Marg, Kathmandu
Tel: +977-1-4220759, 4225482, 4226582
Fax: +977-1-422 6795