admin May 20th, 2009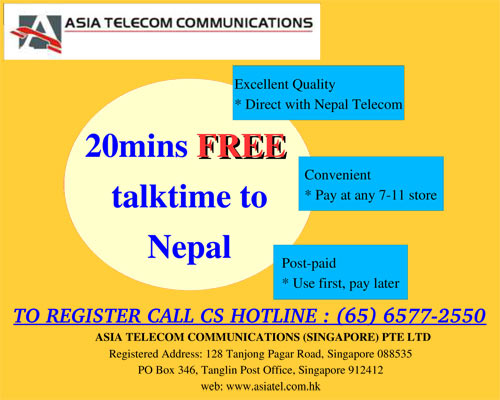 ASIA TELECOM has launched the postpaid International Direct Dialling Service for the Nepalese people living in Singapore. Right now they are offerring promotional FREE 20 mins talk time to call Nepal / India / Hong Kong / UK.
Register yourself, enjoy the promotion and be connected with you home for FREE.
Registration hotline: 6577 2550, or alternatively you can e-mail the following details to nepalteam@asiatel.com.hk to resister and Asia Telecom will reward you with 20 FREE mins as sign up bonus.
1) Name as in Singapore IC or Your existing Singapore Pass
2) Singpaore IC Number / FIN #
3) Your address
4) Your home number and/or mobile number to register
So hurry up guys, catch the promotion before it ends.