admin January 28th, 2009
Press Release received from Non Resident Nepali Association (NRNA) Secretariat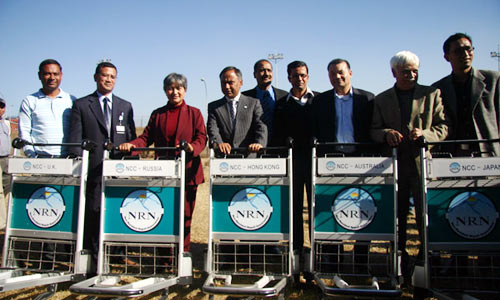 The Non-Resident Nepali Association President Dr. Upendra Mahato handed over trolleys for the airport at Kathmandu to the Minister for Tourism and Civil Aviation Ms. Hisila Yami amidst a function at the international airport. At the function he recalled that the NRNA had decided to make the trolleys available to the airport taking into consideration the fact that the airport was instrumental in making impression about Nepal among the visitors and the fact that the conditions of trolleys at the airport were entirely unsatisfactory. He also recalled that it was one of the pledges made at the Third Global Non-Resident Nepali conference of 2007. At the ceremony he informed that the NRNA had made 100 trolleys available this time and additional trolleys would be made available in future. At the ceremony Minister Yami thanked the NRNA for the effort in improving the impression about Nepal among visitors. She expressed happiness that the trolley had arrived when Nepal had initiated the visit Nepal year 2011 program. She expressed the desire of the Government to work together with the NRN community to promote tourism in the country.
Giving the closing remarks Mr. T.R. Manandhar, Director General of CAAN thanked all the NRNs and the NRNA for providing the trollies.
Mr. Suraj Vaidya, FNCCI Senior Vice President, Mr. Rajendra Bahadur Shrestha – NRNA Deputy Regional Coordinator (Americas), Mr. Sagar Onta – NRNA Youth Representative, Mr. Nilendra Shrestha and Mr. Jeevan Prakash Niroula - NRNA ICC Members, Mr. Upendra Kant Aryal - SSP, Dr. Hemant Dabadi - NRNA Executive Director, senior executives and officers of the airport, senior security personal were also present at the function.
January 27, 2009