admin August 10th, 2008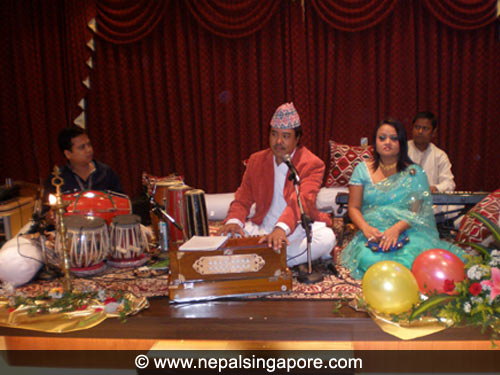 Singapore, August 10, NS report -
Kantipur Tandoori Restaurant today celebrated the grand opening of the Live Nepali and Hindi Gazals cum music with a ribbon-cutting ceremony. The event was chaired by Mr. Amar Pradhan Chitrakar, President of NRN Singapore and Nepalese Society of Singapore along Bishow Giri the proprietor of Kantipur Tandoori Restaurant. Together they both amidst the ceremony by lighting the traditional panas. Mr. Chitrakar cut the ribbon to officially lead the Singers and Musicians to the stage.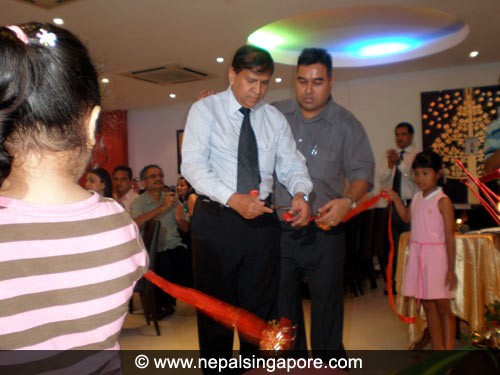 The opening ceremony was followed by Live music from our popular singer Anand Karki and group. Singer Karki, Aarti Adhikari and Jai Sribastab entertained the crowd with various new and old Nepali and Hindi songs. Around a hundred of Nepalese expatriates/families in Singpore were specialy invited to celebrate this ospicious occasion along with buffet lunch.
Anand Karki, one of the top singers of South Asia, is performing here at Kantipur Tandoori Restaurant daily from 7:30pm till mid-night. He is accompanied by star singer Aarti Adhikari, musicians Bhim Adhikari and Jai Sribastab.
Veteran Nepali Modern Singer Karki, who has been awarded with several honours including SA-RE-GA-MA Champion 1998, PRABAL GORKHA DAKSHIN BAHU, CHHINNALATA AWARD for vocal, several KOLLYWOOD AWARDS for best playback singing, HIS MAJESTY'S GADDI AAROHAN SILVER MEDAL, BIRENDRA AISHWORYA PADAK etc is now living in Singapore from past few weeks.