admin August 9th, 2008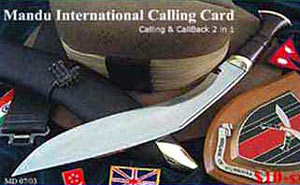 Mandu International Calling Card the best calling card to call Nepal from Singapore is getting much better. Mandu card has always been the best card to call Nepal interms of voice clarity and the calling time since its first launch.
It has a crystal clear voice quality and longest talk time to Nepal from Singapore. Some more, it comes up with lots of exciting promotions time to time.
Well this time, they have come up with unique promotion. You call home, talk to your family, and with the used phone cards get discount on the delicious Nepali food with back home taste. You get 10% discount on Nepali food menu at Bhim Gurung Punjab Restaurant with two used Mandu Calling Card. Bhim Guring Punjabi Restaurant is located at #165 Kitchener Road, just behind Mustafa (next to Shing hotel). Bhim Gurung Restaurant is known for the Cheap and best Nepali food in Singapore with the price as low as $3-$5 per meal. 
So guys what are you waiting for? Call back home with the best calling card and enjoy the taste of Nepal with 10% discount.
Hotline: 81482042
Additional Promotion for Gurkhas inside Gurkha Cantonment:
 Buy Mandu International Calling Card at Canteen GURKHA Cantonment (near swimming pool inside Gurkha Contingent Camp) and get a packet of Peanuts for FREE.
Enquiries: 90373006