admin July 25th, 2008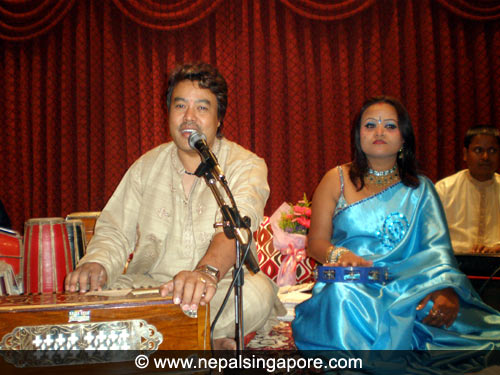 Kantipur Tandoori Restaurant located at the heart of Little India (next to Mustafa shopping complex) is now with LIVE HINDI and NEPALESE GHAZALS at 2nd Level starting from today (25th July 2008).
Anand Karki, one of the top singers of South Asia, is performing there at Kantipur Tandoori Restaurant daily from 7:30pm till mid-night. He is accompanied by star singer Aarti Adhikari, musicians Bhim Adhikari and Jai Sribastab.
As an opening promotion, the restaurant is offering special discounts on total bill (till 31st July 2008) and Buffet Dinner at only $35.90 per Couple from 25th - 27th July 2008.
So guys what are you waiting for? Pick up the phone, book and reserve your seat / table and enjoy the lively music from our very own Superstar Mr. Anand Karki.
Location / Address:
18 Verdun Road, #01-01 & #02-01
Premier Security Building, Singapore
Reception By:
Restaurant Management Department
Kantipur Tandoori Restaurant Pte Ltd
Shish Mahal Restaurant Pte Ltd
Albert Café & Restaurant Pte Ltd
Tel : 6293 6835 & 6837 2090 Fax : 6337 8097
HP: 9668 5704 & 96679503 (Mr./Mrs.Gary)
CLICK HERE for the Picture Gallery of Gazals @ Kantipur