admin December 15th, 2007
Nepal-Singapore dot com family Congratulates Mr. Dikesh Prajapati & Mrs. Sanjila Dulal (Prajapati) on their marriage ceromony, Wedding Date: 25 November 2007, Wedding Receiption: 08 December 2007.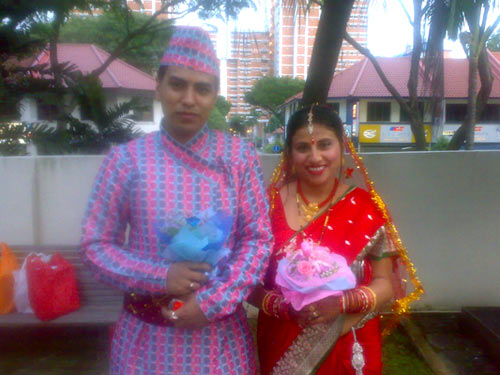 It's your wedding day, a dream come true,
the building of a future beyond "I do."
And we hope the day flows with laughter and love,
the beginning of happiness you've both dreamed of.
For a marriage is about more than husbands or wives;
it's a celebration of friendship to last all your lives.
And we hope it's a day you'll both ever cherish,
with love and warmth that will never perish.
May all paths lead to happiness wherever you should stray,
and may you close your eyes with contentment at the end of each day.
Best wishes to you both for a beautiful future together!
-Nepal Singapore dot com family