admin September 27th, 2008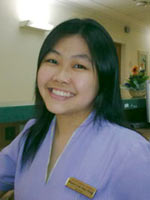 Darling, You are my inspiration,
In the darkness, I seek for ur hand in desperation,
I dread for our separation,
Its putting me through a major operation.
My body was swirled in the sand,
Feeling the sand beads in my hand,
All love started from friends,
Why does this love got to end…
As the sun begins to dry the vapours,
Rain starts to fill the sea to become deeper,
The soil got washed away, the mountains got steeper,
Nature cycles as our love grew stronger.
I dont have riches that fill the seas,
To buy my beauty as you can see,
I hoped that I had a secret key,
To turn your heart always to facing me.
You wrote your name on the snow,
I am writing mine with my shadow,
I wish that, with you I could follow,
Sliently, secretly so that no one knows.
The Moon is glowing for you tonight,
Soon the path will be shown with light,
The aeroplane will soon be taking flight,
My smile and tears are starting to fight.
I must be brave, I must not fear,
Truth is, my love for you is so very clear,
No matter what others say, I dont need to hear,
Can I enter your heart, will you ever let me come near..?
The music dies slowly in the atmosphere,
Come to me and sit just right here,
Listen to my writing and I will read for your ears,
Will you marry me, I will take care of you through your years…
Till death do us part,
I know the truth will break my heart,
Deep down at my throat, the words shall cut,
Tears just flow down when my eyes open and shut….
Darling, I just love you so much…
I tried so hard to forget our love, But I really cannot do it.
Forgive me… for loving you.
- Caroline Moon Lim Huiying