admin January 23rd, 2008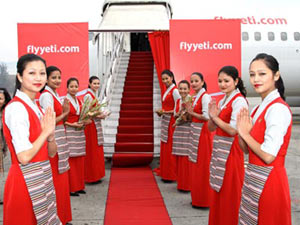 Inaugural flight KTM to KL
Yeti Airlines International, a joint venture between Yeti Airlines and Air Arabia, began international flights from Wednesday (23 Jan 2008), with its inaugural flight taking off to Kuala Lumpur, Malaysia this morning.
The airline, which is also known as FlyYeti.com, is scheduled to operate three flights a week to Kuala Lumpur and thrice-weekly flights to Sharjah, using a Boeing 737-800 aircraft. It is the first Nepali low-cost carrier and the first to have foreign investment scheduled.
Speaking at a function held to inaugurate its flights, Minister for Culture, Tourism and Civil Aviation Prithivi Subba Gurung said its operation will help to provide easy connections to Nepali working abroad and several more tourists to visit Nepal.
Lila Mani Poudel, secretary at the Ministry of Culture, Tourism and Civil Aviation, asked the airline to provide better services to the Nepali workers with good and respectful treatment.
"Many airlines which say they provide Continue Reading »